What is Nexplanon?
Nexplanon is a etonogestrel implant. It is birth control implant that controls pregnancy for up to three years and is said to be effective 99% of the time. Nexplanon is a thin, flexible and small arm implant that is in the size of a match stick. It is a long action birth control method. Nexplanon is placed carefully under the skin of your inner upper arm, by your by your health care provider. It is totally reversible and you can get pregnant after its removal.
How Does Nexplanon Work?
Nexplanon contains etonogestrel. Etonogestrel is the synthetic form of naturally occurring female hormone, progesterone. Nexplanon releases etonogestrel into the blood stream of the implant. The main way in which Nexplanon prevents pregnancy is that it releases high amount of synthetic progesterone, tricking the body into believing that ovulation has already occurred and prevents the eggs from being formed in the ovary. Etonogestrel also effects the natural mucus at the cervix. This increases the thickness of the mucus making it difficult for the sperm to enter the womb and hence successful fertilization.
Can You Get Pregnant on The Implant (Nexplanon)?
When Nexplanon is inserted correctly the chances of getting pregnant are very few which is around 1 out of every 100 which is just 1 percent. There are still some unanswered questions about how effective Nexplanon is on overweight women as not many studies have been done including overweight women. The chances of getting pregnant on Nexplanon are very rare but it is technically possible. But you should know that the side effects just after the implantation of Nexplanon can mimic the symptoms of pregnancy as the body is not usually used to the hormones at that time.
Getting Pregnant on Nexplanon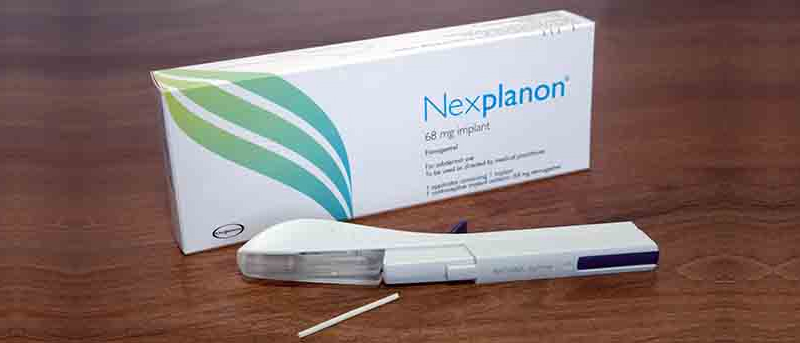 Although the chances of getting pregnant while on Nexplanon implantation is very rare, it is still possible. If you are pregnant while on Nexplanon than you have higher chances that you pregnancy will be ectopic than the women who do not use birth control. Ectopic pregnancy occurs when the fertilized eggs gets attached to any place other than the uterus (most commonly, fallopian tube).
The symptoms of an ectopic pregnancy are vaginal bleeding which is heavier or lighter than your usual period, sharp or stabbing pain that will come and go and vary in intensity usually in the abdominal or pelvis region. Ectopic pregnancy can cause serious internal bleeding, infertility and even death. It is highly advised to contact you health care provider if you think you might be pregnant.
What are the Side Effects of Nexplanon?
The common side effects that a lot of implants face are Changes in menstrual bleeding, Headache, Vaginal infections, Acne, Weight gain, Breast tenderness or pain, hair loss, nervousness, dizziness, increased appetite, Irritation or pain at site of implant. In a few cases there might be few more severe and uncommon side effects such as breast enlargement, vomiting, diarrhea, insomnia, oedema and constipation. In very rare cases side effects can also be blood clot formation, liver disease and rise in blood pressure.
Save
Save
Save
Save
Save
Save
Save
Disclaimer
This article is not intended to be a substitute for professional medical advice, diagnosis, or treatment. Always seek the advice of your physician or other qualified health provider with any questions you may have regarding a medical condition. Never disregard professional medical advice or delay in seeking it because of something you have read on this website.
NOTE: Some of the links in this post might be affiliate links.  This means that if you click on the link and make a purchase, we'll receive a small commission – at no extra cost for you, which helps us cover the costs for the blog.