Your 8thmonth of pregnancy is associated with lots of appointments, planning, and unfortunately, random people attempting to touch your belly and give you unsolicited advice. People seem to be very excited for you and you may start celebrating with baby showers or special gatherings to acknowledge approaching the end of your pregnancy.
In this article, we are going to help guide you through your 8th month of pregnancy.
IN THIS ARTICLE
What to expect from an ultrasound
You may not be getting any more sneak peaks of your baby until she is born unless your provider has a specific reason to conduct an ultrasound (like a diagnosis of gestational diabetes).
If you do have an ultrasound, expect to have that goop spread on your belly again, and be sure to watch the monitor. Your provider is likely monitoring factors like baby's growth or movement during the evaluation. All you have to do at this point is breathe and let your provider do her job.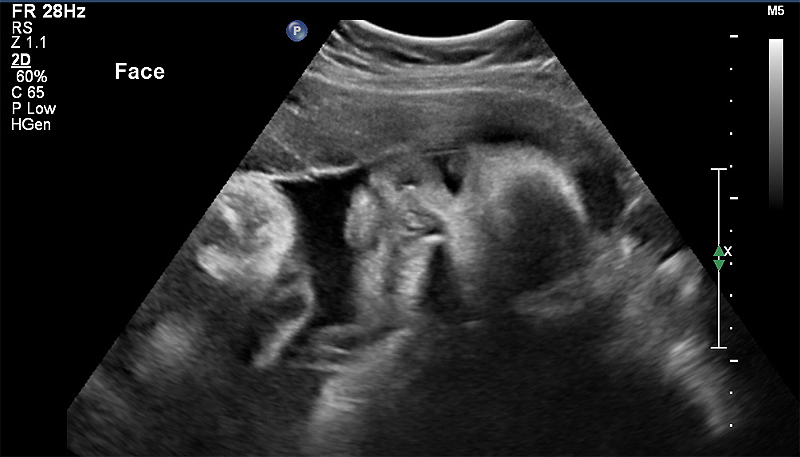 Which symptoms will I feel at this point in my pregnancy?
The final months of pregnancy can be associated with some uncomfortable symptoms. If you are feeling like this is just too much to handle, just look down at your belly and remember that in a few weeks you will be a mama to a sweet baby boy or girl, and this will all be over.
Some symptoms you may experience include:
Braxton-hicks contractions
Varicose veins
Shortness of breath
Exhaustion
Poor appetite due to your baby taking up so much space in your belly
Feeling warm/hot flashes
Mood swings
Blurry vision
Insomnia
Excitement knowing you will be giving birth very soon
Cramps at 8 months pregnant
Some abdominal cramping and pain during pregnancy is very common, this associated with everything from constipation, increased blood flow to the uterus, Braxton-Hicks contractions or round ligament pain.
How big will my belly be at this stage of my pregnancy?
Your baby is growing at a rapid rate, and therefore your belly is even larger than before. You may also notice that your belly has dropped in position, meaning that your baby is getting ready to make her grand entrance through the birth canal.
How big is my baby right now?
This week your baby is approximately 5 pounds and 18 inches long. Grab a 5 pound dumbbell to feel how heavy your baby is right now.
Shopping List
Now is the time to get a rear-facing car seat to be able to bring baby home from the hospital safely. Make sure to grab an infant insert to ensure that baby will fit safely if needed.
While you are at it, you should also make sure you have the essentials on-hand for basic baby care: newborn diapers, wipes, nursing bra if you are planning on breast feeding, formula if you are formula feeding, bassinet, and receiving blankets
Load up on non-perishable snacks to bring to the hospital. Dried fruit (RIND SNACKS), beverages (DRINK SIMPLE MAPLE WATER), protein bars (ZING BARS), and whole grain crackers are all great choices. You may also want to pack some hand candy or gum (PUR gum) to have on-hand if you are not allowed to eat or drink anything.
Some hospitals allow you to eat some honey for quick energy during labor. Invest in some honey sticks to pack in your hospital bag. If you don't end up using them, you can enjoy them in a cup of tea later.
If you are starting to pack your hospital bag, get a comfy robe to enjoy while you are at the hospital.
Many hospitals request baby go home wearing clothes that are side-tying to protect the umbilical cord. Make sure you have 1-2 options that are washed and ready to go.
If you are suffering from hemorrhoids, try some witch hazel pads or an Epsom salt soak (just make sure the water isn't too hot)
Stock up on some organic dates. Dates are a perfect snack to load up on natural fiber if constipation strikes. Data suggests that eating dates daily in late pregnancy may increase cervical ripening which may help with labor. (show link to Joolies dates)
Homework for this month
Pack your hospital bag and snack bag
Make arrangements for your other children or pets while you are in the hospital. Who is going to watch your puppy while you are in labor?
Explore learning how to perform a perineal massage if you are planning on having a vaginal delivery. It may help your recovery be a bit easier.
See if the hospital you are planning on delivering in allows you to pre-register. This will save time on your delivery date.
Bottom Line
Once you hit the 36-week mark, know that your baby can arrive literally any day. Make sure you are on the same page with your partner, doctor, family, and other support people to ensure your delivery day goes as smoothly as possible.
Disclaimer
This article is not intended to be a substitute for professional medical advice, diagnosis, or treatment. Always seek the advice of your physician or other qualified health provider with any questions you may have regarding a medical condition. Never disregard professional medical advice or delay in seeking it because of something you have read on this website.
NOTE: Some of the links in this post might be affiliate links.  This means that if you click on the link and make a purchase, we'll receive a small commission – at no extra cost for you, which helps us cover the costs for the blog.