Pregnancy is the most awaited phase of life where many ladies await for. According to the survey, it is noted that pregnant ladies have many fantasies about the pregnancy period and usually pregnant woman prefer to highlight their existence among all others.
Getting tattoos done during pregnancy is one among the most fantasies of pregnant woman. Yes, these days' people are getting upgraded according to the time and hence the needs and lusts of people are also getting upgraded as such. Pregnant woman, now days prefer to get tattoos done during their pregnancy and also have an exclusive photo-shoot of the same accordingly. There are few directions to get the fantasies done and hence people should follow the same.
Is It OK to Get a Tattoo While Pregnant?
Yes, it is fine to have a fantasy fulfilled during pregnancy and get the tattoos done provided following measures should be taken for sure.
The tattoo artists should be registered and should be expert in tattoos.
The artists should be very hygienic as they should follow sterilized techniques to follow the procedure. It is advised to wear gloves all the time when artists work with tattoos.
Sterilized techniques such as autoclave, sterilizing chemicals should be in hand to make use of equipment.
Not the equipment alone but entire set up should be very tidy and clean enough to handle the tattoos during pregnancy. All surfaces, floors and surroundings should be maintained cleanly.
All the tools and instruments used for the procedure should be disposable and should be clean and tidy and hence everything they make use for tattoos should be of single use.
Everything they make use of should be opened in front of the pregnant woman itself to assure the sterilization process.
The needles, dyes, colors, inks, piercings etc., used for tattoos should be very clean, sterile and should be unopened.
The dress they wear and the process they follow should also be highly hygienic.
Most importantly, artists should be available round to the clock in the case of need and emergency that a pregnant lady might face.
Don't Miss: How to Boost Immune System During Pregnancy
Henna Tattoo During Pregnancy
Since many and many thousands of years, woman from several continents have mythological beliefs stating to have henna tattoos done on the pregnant bellies. It is trusted that henna tattoos on pregnant bellies shall raise a happy baby and get the baby out safely.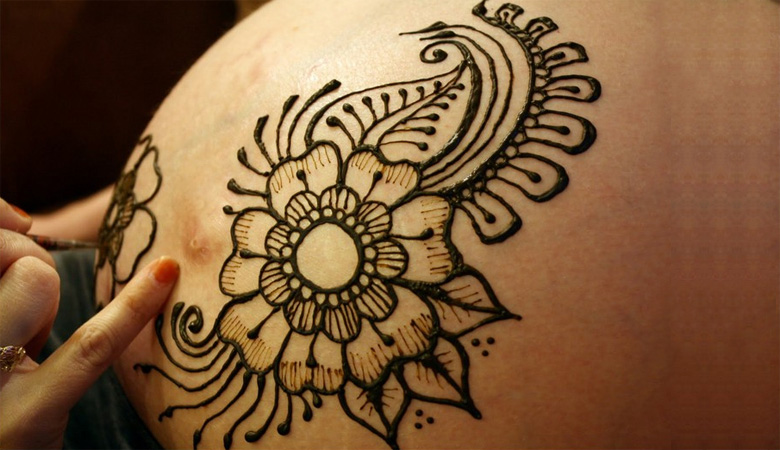 Nevertheless the beliefs and fantasies, safety and security should also be maintained during these procedures. People should be aware of using henna properly. There exist different forms of henna today where natural henna should be preferred most than any other form. Natural henna is available in different forms where it shall convert the skin in to orange, red, brown, cinnamon, brick, chocolate, coffee, and other colors which shall remain about one to several weeks.
Always pregnant woman should prefer natural henna and it is advised strictly not to make use of black henna as it contains para-phenylenediamine (PPD) which causes blisters, burns on the skin.
Getting a Tattoo in Early Pregnancy
It is always advised to get tattoos done in late months of pregnancy rather than in early pregnancies. It can be dangerous for your health during early pregnancy.
Disclaimer
This article is not intended to be a substitute for professional medical advice, diagnosis, or treatment. Always seek the advice of your physician or other qualified health provider with any questions you may have regarding a medical condition. Never disregard professional medical advice or delay in seeking it because of something you have read on this website.
NOTE: Some of the links in this post might be affiliate links.  This means that if you click on the link and make a purchase, we'll receive a small commission – at no extra cost for you, which helps us cover the costs for the blog.