Twelfth Week of Pregnancy: Week by Week
You have almost made it to the 2nd trimester. Baby is growing rapidly and is entering the maturation phase of pregnancy.
IN THIS ARTICLE
Symptoms / What to Expect
You may start gaining more weight during this week. Your breast may be tender and become darker around the nipple. The darkening nipple will help your baby find it's way to it's milk source if you choose to breastfeed. Hormones are calming down, as you start your 2nd trimester next week. Some symptoms will subside at this point.
Your uterus is moving from behind the pelvic bone to higher in your abdomen. This MAY cause you a little difficulty breathing since your lungs are starting to share their real-estate.
Some common 12 week pregnancy symptoms include:
Slight shortness of breath
Darkening nipples
Breast tingling
Weight gain
bloating
Fatigue
Constipation
Baby's Development
The baby is about 2.25 inches long, or the size of lime or apricot. Their size has doubled over the last 3 weeks.
The baby's external sex organs are formed, and the hormones of the pituitary gland are being produced now in the baby. This means if it is a girl, she could have a baby one day! Bone marrow has started to make white blood cells so the baby can fight off germs once outside your body.
12 week pregnant belly
Your belly may be finally starting to show! Every day you may start noticing a change. You may notice that your jeans are more difficult to button these days. May be time to embrace the elastic waistbands. 
12 Weeks Pregnant Ultrasound Pictures
The baby is now developing reflexes. They will start to react to outside stimulus, such as poking the belly. You probably will be able to see more of the fetus at this appointment, if you received your first checkup at 8 weeks. 

12 Weeks Ultrasound Boy:

12 Weeks Ultrasound Girl: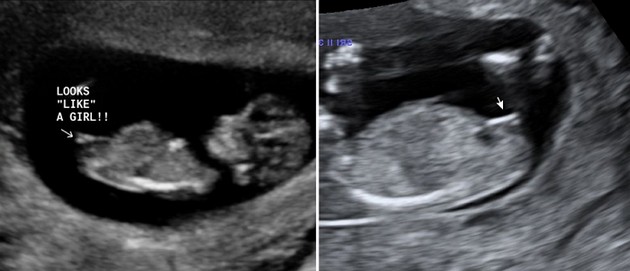 Homework
If you are ready, many couples decide to share the news that you are expecting around 12 weeks. Talk to your support system to see if you all are ready for others to know. It may be hard to hide very soon!
Make a point to avoid unpasteurized cheeses or raw fish. They each have the potential to cause food borne illness that is harmful for you and the baby.
Shopping List
If you are still working in an office, try skirts with an elastic waist band. Many will will stretch as your belly grows
Invest in natural all-purpose cleaner. This will keep you from inhaling harmful fumes, and also can be useful when baby comes.
Hydration is starting to become a priority. Make sure you have a BPA-Free water bottle to help you have fluids wherever you are.
Week 12 of pregnancy is a week where many couples share the news with loved ones. Have you already told your support system, or are you continuing to keep the news under wraps? Let us know below!
Disclaimer
This article is not intended to be a substitute for professional medical advice, diagnosis, or treatment. Always seek the advice of your physician or other qualified health provider with any questions you may have regarding a medical condition. Never disregard professional medical advice or delay in seeking it because of something you have read on this website.
NOTE: Some of the links in this post might be affiliate links.  This means that if you click on the link and make a purchase, we'll receive a small commission – at no extra cost for you, which helps us cover the costs for the blog.