Twelfth Week of Pregnancy: Week by Week
The entry into the twelfth week of pregnancy marks the end of the first phase popularly known as Trimester. This is a period from week one to the week twelve where all the significant changes in the mother-to-be are seen.
IN THIS ARTICLE
Symptoms to Expect When 12 Weeks Pregnant
Your body will begin to produce the much needed hormones resulting which you will often feel tired and fatigued. This also happens because your body makes a constant effort in supplying blood and nutrients to the little one inside.
Morning sickness is quite a common problem in every single pregnant woman. Just because the term is suffixed with the word 'morning' does not mean that the sickness is confined to the early hours of a day. This means that the morning sickness may occur at in any time in a day. The study tells that this happens due to the changing levels of estrogen in your body.
The smell of certain food items or drugs or even strong perfumes may cause you Nausea which is the preceding stage of the continuous vomiting.
You will crazily crave for something to eat. The research tells that the cravings for the ice creams and the pickles cannot be compared to anything else during the pregnancy period.
The uterus enlargement results in your urge to urinate more often than the normal time. This is also one of the main reasons for your 12 weeks pregnant belly.
It is quite obvious that you will suffer from mild headaches every now and then that are caused due to constant blood circulation and hormonal change in you.
A pregnant woman will become a victim of dehydration very soon resulting in constipation and bloating. This mainly happens because the increase of progesterone will slow down the functioning of your digestive system. The easiest remedy for this is to consume as much of water as you can.
There will be sudden increase in your weight as the days in the week pass by. It could be a sign of the speed with which the little one inside your womb is growing.
Don's Miss: 11 Weeks Pregnant: Symptoms, Belly and Fetal Development
12 Weeks Pregnant Ultrasound Pictures
After getting the 12th weeks ultrasound pictures from the doctor you will receives the various important information eg. examines the risks of possible chromosomal abnormalities that's why you must take this ultrasound – don't overestimate the importance of the 12th week ultrasound information.

12 Weeks Ultrasound Boy:

12 Weeks Ultrasound Girl: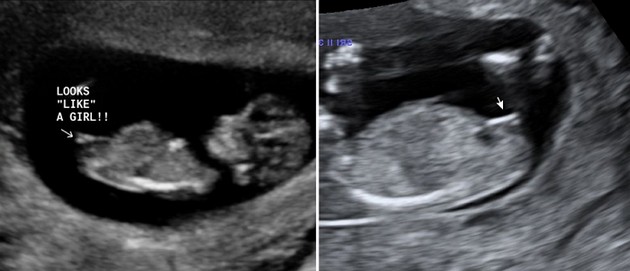 What you need to do when you're 12 weeks pregnant
Since the twelfth week is the extreme stage of the trimester one, it is important to keep the nutrition under control. You must visit a nutritionist on a weekly basis and have to be well versed with the instructions provided by him. However, it is well known that magnesium is much important for the growth of the 12 week fetus and for the right formation of his bones. With an add on to magnesium-rich foods, there must be a high intake of Vitamin-A. It is in this stage that the baby starts to develop and store the nutrients of vitamin-A within himself. This ensures the development of the baby in areas like lungs, intestines and also helps in improvement his skin.
List of food items in which magnesium is found in plenty:-
The pregnant woman must make sure that a few of dry fruits like peanuts, walnuts, raisins and almonds goes inside her ever morning.
Spinach, peas and sweet corn have to be added in your daily diet.
The intake of milk, cheese, curd, butter milk, etc. has to increase as these are the very sources of energy that a pregnant woman would need always.
Of the non-vegetarian food items, the fish and the meat would be appreciated as it has its own richness of magnesium.
By following a proper and required diet, the baby will be risk-free at the time of his delivery.
Apart from the above mentioned, you also need to get ready for the 12 weeks pregnant ultrasound and this is when you can have a look at your baby for the first time. You will really feel exciting that your baby is now completely formed and you can see all the organs like the muscles, bones and limbs and even the sex organs at this stage are well developed.
And if you are really wondering like any other women as to 12 weeks pregnant is how many months then it is actually 2 ½ months pregnant.
So, be prepared for the best day of your life, eat well and exercise and take good care of yourself and your baby.
Baby Development At 12 Weeks
At 12 weeks, your baby starts to develop some muscles. In fact, the fetus will actually bulk up at the point. The result is that the baby also starts to have muscle activity, meaning that the baby starts to kick and stretch. Although it is unlikely that you can feel this, particularly in a first pregnancy, your baby will respond to you placing your hand on your belly. The fetus starts to develop reflexes and will kick out when it senses something. The fingers will open and close, the toes will curl, and the arms and legs will start to kick and jerk all over.
Your Belly At 12 Weeks Pregnant
Up to this point, your uterus has remained in place inside your pelvis. However, it is getting bigger now and it will now start to move up. This means that you probably won't need to go to the toilet as much anymore. Your belly will really start to swell now, and you will definitely have a pregnant look. You may also start to see the world slightly more blurry because of added fluid in your cornea and lens. You may also have some headaches because of added fluid pressure on your eyeball. Don't worry because this should last no more than two months. However, you do have it get it checked out, as it can also be symptomatic of diabetes or hypertension.
Disclaimer
This article is not intended to be a substitute for professional medical advice, diagnosis, or treatment. Always seek the advice of your physician or other qualified health provider with any questions you may have regarding a medical condition. Never disregard professional medical advice or delay in seeking it because of something you have read on this website.
NOTE: Some of the links in this post might be affiliate links.  This means that if you click on the link and make a purchase, we'll receive a small commission – at no extra cost for you, which helps us cover the costs for the blog.