What is Sciatica?
Sciatica nerve travels from lower part of back through back portion of legs and lastly to feet. Sciatica is not a single snag but includes various problems that occur when pressure or infection results in pain on nerves travelling from back to legs.
Sciatica Pain in Pregnancy
Inflammation of sciatica nerves causes sciatica during pregnancy. Resulting pain occurs because of excessive pressure of protruded belly on nerves.
Causes of Sciatica During Pregnancy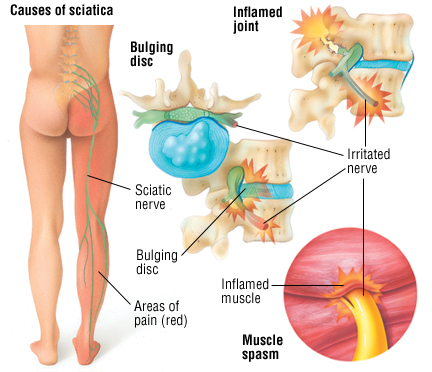 Pregnancy is not a reason for sciatica pain. Main causes of sciatica during pregnancy are as follows-
An increase in fluid retention and excessive weight gained by a pregnant body starts putting force on sciatica nerves and thus leads to its compression
During pregnancy, uterus tends to expand so that it can carry the baby easily. This extended uterus presses sciatica nerves downward at lower spinal area
As the breasts and belly are growing it starts causing tightening of sciatica nerves
During third trimester baby starts shifting its position and sometimes his head is on sciatica nerves causing pain.
Must Know About: How to Relieve Back Pain During Pregnancy
Symptoms of Sciatica in Pregnancy
Some common sciatica symptoms are as follows-
Feeling of tingling unresponsiveness that leads to a fiery sensation and acute pain
Mild pain occurs firstly in buttocks area and later shifts from back to legs to foot
Occurrence of irregular pain
Acute cramps in muscles
In rare cases, pain in groin area
How to Manage Sciatica Pain in Pregnancy
Managing and controlling Sciatica pain during pregnancy is easy with the help of few precautionary measures that are as follows:-
Bed rest is an important aspect for sciatica relief
Application of heating pad is also acceptable as pain reliever
An ice pack provides respite to sciatica patients
In some cases, doctors allow swimming as acceptable physical exercise
Walking is one physical activity doctors approve of
Wearing comfortable footwear is necessary for patients suffering from sciatica. Flat and comfy shoes help the leg muscles to relax and prevents any jostling in spinal area at the time of taking a walk
Maintaining posture correctly to prevent pain and hurt in spinal area
In order to provide support to back it is sensible to use customized pillows especially designed for pregnant women.
It is prudent to avoid lifting and carrying heavy objects as they can put unnecessary pressure on a pregnant body. This can cause adverse results.
Any activity that can harm mother and baby must be sidestepped
Sometimes a belt provides support to swollen belly
Avoid sitting in same place for a long time as muscles become stiff and can start causing discomfort
It is better to sit than stand and lie down than sit
Using pillows while sleeping gives a comfortable feeling
In case, pain is extreme, using crutches can provide reprieve
Treatment of Sciatica Pain During Pregnancy

One question that needs answer is how to treat sciatica. The main objective of a suitable treatment is minimization of pressure and pain on sciatica nerves and therefore some apt therapies are as follows-
Yoga
Acupuncture
Chiropractic treatment
Although medicines are not prescribed by the doctors as they may harm the baby, but still in extreme cases, anti-inflammatory medications can be taken under the guidance of a medical practitioner
Osteopathic treatment
Massage therapies
Physical therapies under the guidance of a therapist
Exercises