What is Tailbone Pain in Pregnancy?
Tailbone pain is a severe, dull and sharp pain felt at end part of spine, above buttocks. An excessive surge of relaxin and estrogen hormones results in relaxation of ligaments leading to shift in tailbone therefore causing tailbone pain during early pregnancy and tailbone injury during childbirth.
Symptoms of Pain in Tailbone
Some important signs and symptoms of pain in tailbone during pregnancy are as follows:-
Ache in back
Pain while passing stool
Pain in hips
Pain in legs
Causes of Tailbone Pain During Early Pregnancy (First Trimester)

There are different reasons of Tail Bone pain on different stages. Tailbone pain during pregnancy first trimester happens when estrogen hormones relax the round ligaments to accept increasing weight and size of uterus. Causes of Pain During Tailbone are mostly because of following reasons:-
Labor
Intercourse
Bowel movement
Walking beyond capacity
Running
Riding
Cycling
Driving
Jumping
Lifting and carrying of objects that are too heavy
Lying on one's back
Standing continuously for a long period
Sitting for a long period on a hard surface
Changing positions suddenly
Coughing
Sudden sneezing movement
Pressure on tailbone
Tailbone injury during childbirth
Tailbone pain during pregnancy twelve weeks happens when tailbone shifts its position more than usual. Shifting can worsen the pain because of conditions like:-
Constipation
Injury in lower part of back because of a fall or accident
Herniated disc in lower part of back
Symphysis pubis dysfunction
Pelvic cancer
Baby starts shifting its position in later half of pregnancy and sometimes its head rests upon tailbone causing Tailbone pain during third trimester.
Tailbone pain during pregnancy thirty-eight weeks occur to indicate upcoming labor and time to deliver the baby (tailbone injury during childbirth).
Must Read About: How to Relieve Back Pain During Pregnancy
Sitting Positions During Tailbone, Coccyx Cushions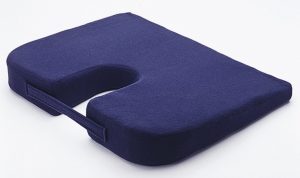 If you want to relief from Tailbone pain you can try Coccyx Cushions or inflatable ring (u-pillow). Large number women get relief from using these pillows with regular exercise in the morning.
Click here to Buy Coccyx Cushions from here
If you are working women you can also try exercise ball during office hours.
Treatment for Pain in Tailbone During Pregnancy
Want to know how to relieve from Tailbone Pain during pregnancy. See the best treatment is somewhat controlled through lifestyle changes and home remedies. Some important and helpful tips are as follows:-
It is sensible to change positions at regular intervals as sitting or standing in same position for a longer time can result in pain at tailbone
Avoid walking for a very long time. Physical activities must be stopped even before body starts tiring.
Tailbone pain during pregnancy relief can happen by applying ice pads or heat pads
Physical activity like swimming can prove beneficial but it is necessary to consult a doctor before attempting such activity
If a medical practitioner approves then certain yoga positions can help in bringing relief from pain in tailbone area
By taking approval from a doctor special massage can be attempted under guidance of a licensed physiotherapist
If pain in tailbone persists, then it can be serious and consultation with a doctor becomes necessary. After a physical examination, doctor may suggest further tests to back his theory. These are
Two sets of X-Rays including one while standing and other while sitting. After comparing this two X-Rays he will be able to determine the exact movement of tailbone and reason for pain
MRI scan is advised to check for conditions like cancer in bones, fracture in bones or an infection in bones.
In pregnancy a doctor, do not advise taking of oral medications. Only in case of intolerable pain, will he suggest use of painkillers like ibuprofen and if pain continues after this then they recommend the use of steroid injections.
Disclaimer
This article is not intended to be a substitute for professional medical advice, diagnosis, or treatment. Always seek the advice of your physician or other qualified health provider with any questions you may have regarding a medical condition. Never disregard professional medical advice or delay in seeking it because of something you have read on this website.
NOTE: Some of the links in this post might be affiliate links.  This means that if you click on the link and make a purchase, we'll receive a small commission – at no extra cost for you, which helps us cover the costs for the blog.