Twentieth Week of Pregnancy: Week by Week
Pregnancy is the most beautiful experience a woman can have and most of them are seen being excited in the course of the initial few months of it as it is when the greatest developments take place not only within mother's physical system but also for her baby within.
IN THIS ARTICLE
What is happening to my baby at 20 weeks
During this period a women needs to have a thorough knowledge about pregnancy signs and symptoms. There are a number of most exciting changes outside and within a mother's womb for her duration of her pregnancy week by week. During Week 20 Pregnancy baby's weight is approximately 10 to 11 ounces and that of height is 10 inches long from head to toe.
During 20 Weeks Pregnant the baby in the womb will start practicing breathing and swallowing. The 20 Week Fetus will continue to grow and fill out and during this week the head will turn a bit more proportional to the rest of the body. During this phase of pregnancy the baby's skin become more complex forming different layers. Epidermis or surface of the baby's skin has four layers that contain ridges for fingertips.
The layers thus formed in baby's palms and feet provides them to get own unique fingerprint in later part of life. The body will be covered by lanugo during pregnancy week 20. Lanugo which is usually fine, downy hair offers insulation and warmth to the little baby. In some cases babies are born with a covering of lanugo, but will go away in first couple of weeks of life, where as in normal cases the lanugo will be shed off by the time child is born. By this pregnancy week 20 baby's stomach, intestines, liver and other abdominal organs are enclosed within the abdominal cavity. All these can be seen during the 20 Weeks Pregnant Ultrasound.
At pregnancy week 20, a woman is exactly at the half way of pregnancy. There are only 20 more weeks to go before the due date. Strangers and onlookers will start noticing bump at pregnancy week 20. It will be a hard task to hide pregnancy at this moment. During pregnancy week 20 most of the women have their second trimester ultrasound. Most of the women will be able to feel their baby's movements by pregnancy week 20.
Week 20 While Pregnant Symptoms
One might probably feel less dainty and more bulky. Skin might get darkened in different areas of the body. Areolas get darkened by this time. Hormonal changes lead to temporary increase in melanin. Increase in melanin production lead to side effect called chloasma which is also called as mask of pregnancy. This side effect is a common pregnancy symptom in second trimester. 20 Weeks Pregnant Belly is same like that of the 17th-19th week pregnant belly.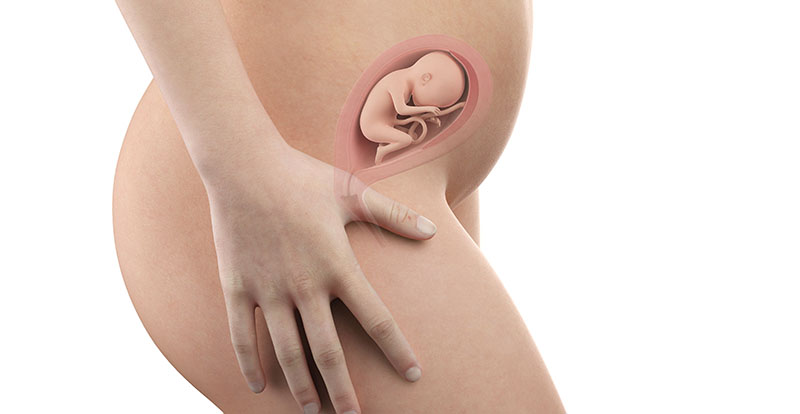 This side effect will be faded out upon the delivery of the baby. Chloasma can be minimized by making sure that one stay away from direct sunlight. Dizziness or light headedness is yet another common symptom of pregnancy week 20. It is advised to get as much rest as possible and take frequent brakes and rest.
Your Health At 20 Weeks Pregnant
At 20 weeks, you may suddenly start to have unsettling, vivid, wacky, and quite scary dreams. This is quite normal and the dreams may have something to do with the anxiety that you feel in relation to labor and motherhood in general. You may also develop some insomnia and find it increasingly difficult to sleep because your imagination is running wild and you become afraid of the nightmares. This is why it is very important that you communicate with your loved ones at this point and that you try relaxation exercises. Keep taking your vitamins and make sure that you get plenty of rest.
Pregnant Belly At 20 Weeks
You are now officially half way through your pregnancy and that is something to celebrate! You will also notice that if someone sees you from the side, your profile will definitely show that you are pregnant. You may also start to experience ligament pains in your body, or you will very soon. These pains are most noticeable in your groin, your abdomen, and the hips. This is because your uterus will continue to grow and the surrounding round ligaments, which also attach to the sides of the upper uterus and the pelvic sidewall, will start to get stretched and pulled, and you will certainly feel this.
Disclaimer
This article is not intended to be a substitute for professional medical advice, diagnosis, or treatment. Always seek the advice of your physician or other qualified health provider with any questions you may have regarding a medical condition. Never disregard professional medical advice or delay in seeking it because of something you have read on this website.
NOTE: Some of the links in this post might be affiliate links.  This means that if you click on the link and make a purchase, we'll receive a small commission – at no extra cost for you, which helps us cover the costs for the blog.